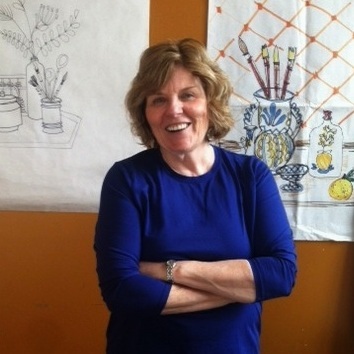 Janet Garner is a Nashville-based artist, specializing in two and three-dimensional mixed media.

Janet earned a BS in interior design from the University of North Carolina, Greensboro. After owning her own hotel interior design company for 25 years in Atlanta, she obtained a BFA in painting from the Atlanta College of Art.

Her career has taken her to over 40 countries, and she has lived abroad in France and England. These experiences influence her art.
"My travels have left an indelible impression of the patterns and motifs that represent history, culture, and memories of my experiences. These have found their way into my art and are the impressions I want to capture and paint.

We are surrounded by varied patterns and motifs that become so much a part of the background that we fail to notice the beauty and interest they add. My work brings them to the forefront, a corner of a room that remains in my mind. A 'snapshot' of a time and place."